A One-of-a-Kind Experience
Spectacular Mountain Views
Amazing Photo Opportunities
Fly Over One of Sevier County's Most Beautiful Areas—Wears Valley
This flight is dominated by spectacular mountain views from the very start! Upon departure, you will travel over historic downtown Sevierville with the Smoky Mountain National Park in the distance. After Sevierville, we continue over the rolling foothills of the Smoky Mountains and the Pigeon Forge Parkway before getting away from civilization over Pine Mountain. As you climb in altitude, you'll follow the terrain up to the crest of Cove Mountain at the National Park boundary line where you'll be met with spectacular views of the Wears Valley area. Continuing along Wears Valley, your tour travels northbound over the east end of Waldens Creek and the foothills of Bluff Mountain before returning over the Tennessee Valley to the heliport.
---
Time & availability
From 9 am until sunset, every 30 minutes. 7 days a week, year round
---
Meeting point
All of our tours depart from our heliport, located at 1949 Winfield Dunn Parkway, Sevierville, Tennessee. For your convenience, we also have an information/reservations office located at 1965 Parkway in Pigeon Forge.
---
What to bring
You don't need to bring anything apart from your camera/cell phone for taking videos and photos.
We suggest wearing comfortable shoes and dark-colored clothing for taking better photos.
Light-colored clothing reflects on the transparent windows and can cause undesirable flares in your photos. This is why it is recommended to wear dark clothing when riding in a helicopter.
---
Our staff
A welcome receptionist to greet you and get you started
A safety & boarding attendant
A professional photographer
One passionate, informative, FAA certified pilot
---
Additional points of interest
Sevierville
Pigeon Forge
WonderWorks
Great Smoky Mountain Wheel
Smoky Mountain Alpine Coaster
Pine Mountain
Hatcher Mountain
Wears Valley—one of Sevier County's most beautiful areas
See Pine & Cove Mountain and the vast wilderness beyond
Up-close, unforgettable views of Waldens Creek & Bluff Mountain
This tour can accommodate up to 6 passengers
For parties of 1 to 3 passengers, there is a maximum per seat weight limit of 300lbs (total combined weight not to exceed 600 lbs.) If any one guest weighs more than 300 lbs an additional charge will be due at check-in. Please call for prices.
For parties of 3 to 4 passengers, the maximum total combined weight should not exceed 850 lbs. For parties of up to 6 passengers, the maximum total combined weight should not exceed 1,100 lbs.
Note: FAA regulations require that all passengers be weighed at check-in. Only the flight crew will have access to passenger weights, and all information will be kept confidential.
Customers will receive a full refund within 24 hours of notice of cancellation. Customers will also receive a full refund in case of operator cancellation due to weather or other unforeseen circumstances. Contact us by phone (

865-453-6342)

to cancel or inquire about a cancellation

(opens in a new tab)

. No-shows will be charged the full price.
Tour team gratuities are not included.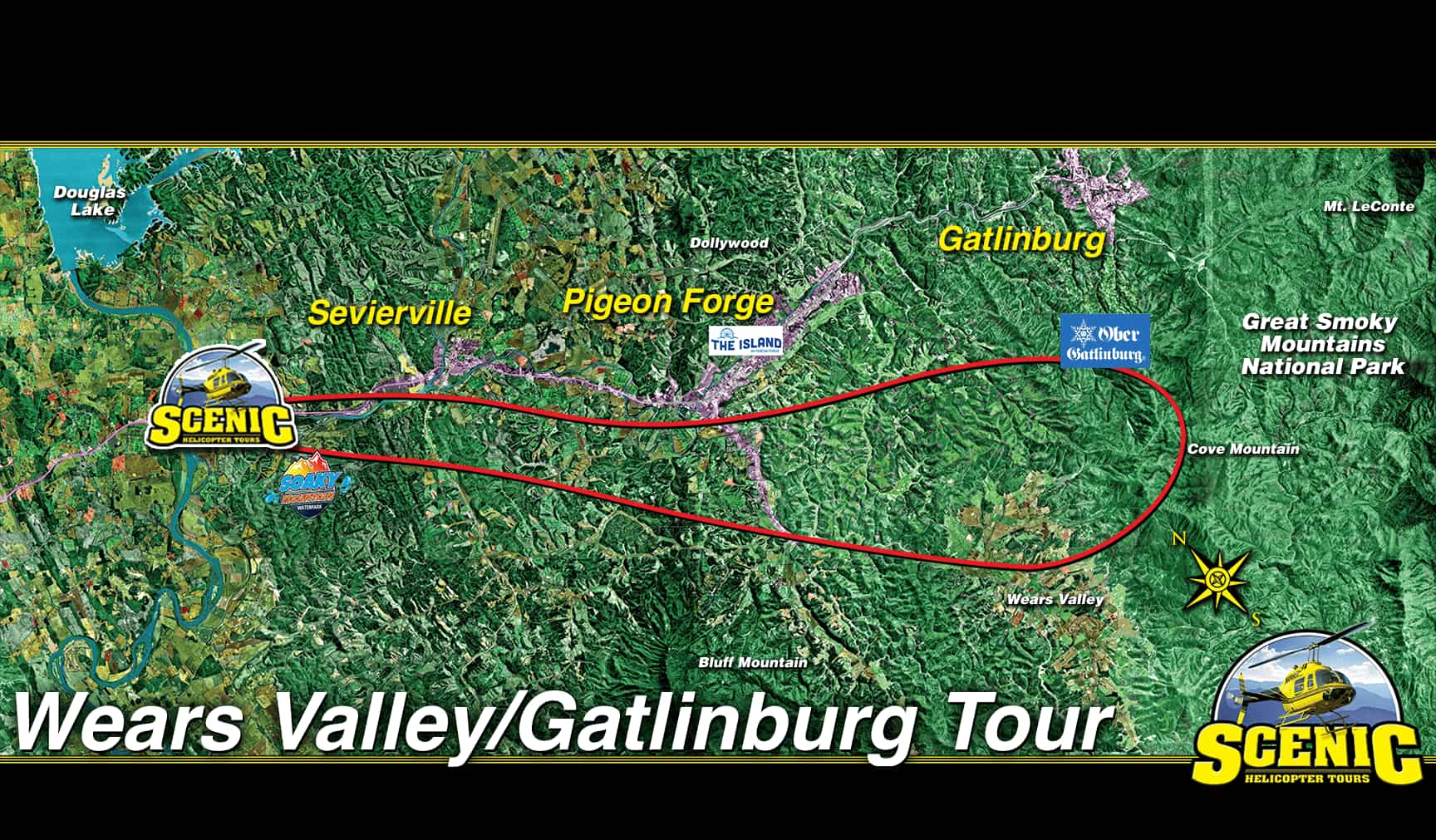 ---